Former Dodgers third baseman Justin Turner held the seventh annual Justin Turner Golf Classic golf tournament this week, and a current Los Angeles player made a big splash. Pitcher Ryan Pepiot, who pitched in nine games for LA last year, hit the first ever hole-in-one at the tournament.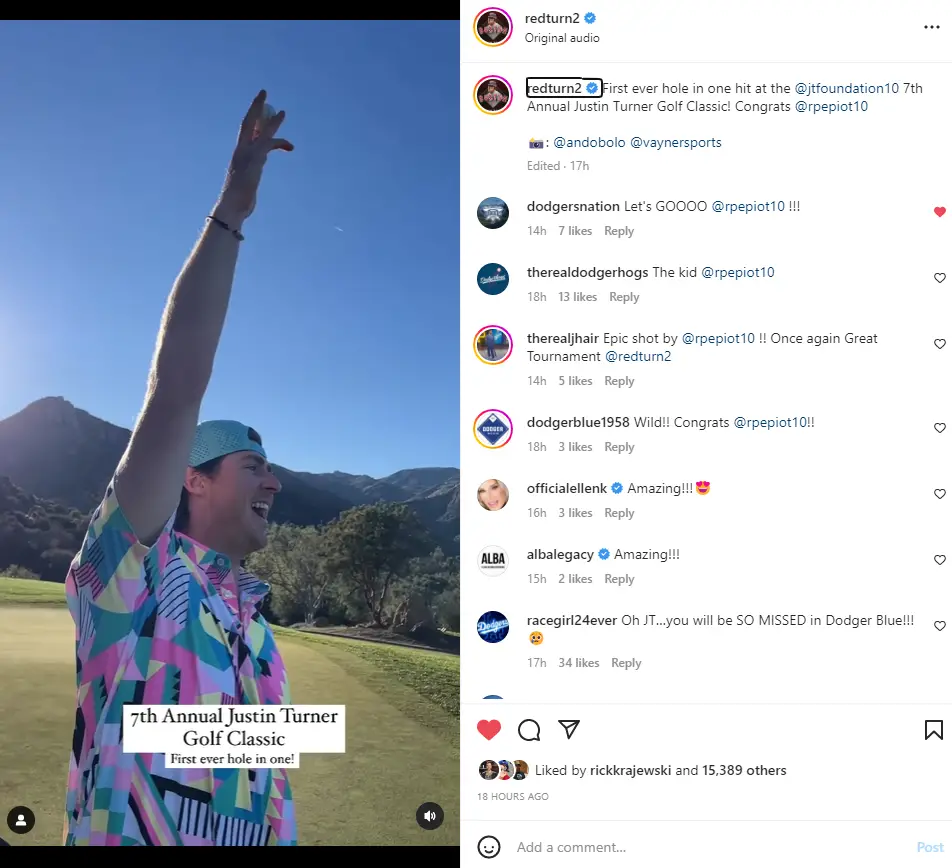 This wasn't just historic for JT's tournament; it was also the first hole-in-one Pepiot has ever hit. After running down and retrieving the ball, he says to the camera, "First ever. This is crazy. Out here? This is great. I'm at a loss for words right now."
Pepiot then rejoined the group to celebrate, getting a big hug from Mike Moustakas and high-fives all around. Maybe the best part of the video is when Pepiot gets congratulated by MLB legend and future Hall of Famer Albert Pujols, and Pepiot respectfully shakes his hand and says, "Ryan Pepiot, nice to meet you."
Turner presented Pepiot with a bottle of Don Julio tequila as a reward for his efforts; Turner inscribed on the bottle: "Hole 17, 182 yards, Sherwood CC, Hole in 1."
The Justin Turner Golf Classic was held at the Sherwood County Club in Thousand Oaks, 42 miles west of Dodger Stadium. The tournament benefits the Justin Turner Foundation, "whose mission is to support homeless veterans, children (and their families) battling life-altering illnesses and diseases and various youth baseball organizations," according to the foundation's website.
Congrats to Pepiot, and may his success be a sign of things to come in the 2023 season!
Have you subscribed to our YouTube Channel yet? Please subscribe and hit that notification bell to stay up to date on all the latest Dodgers news, rumors, interviews, live streams, and more all year long!