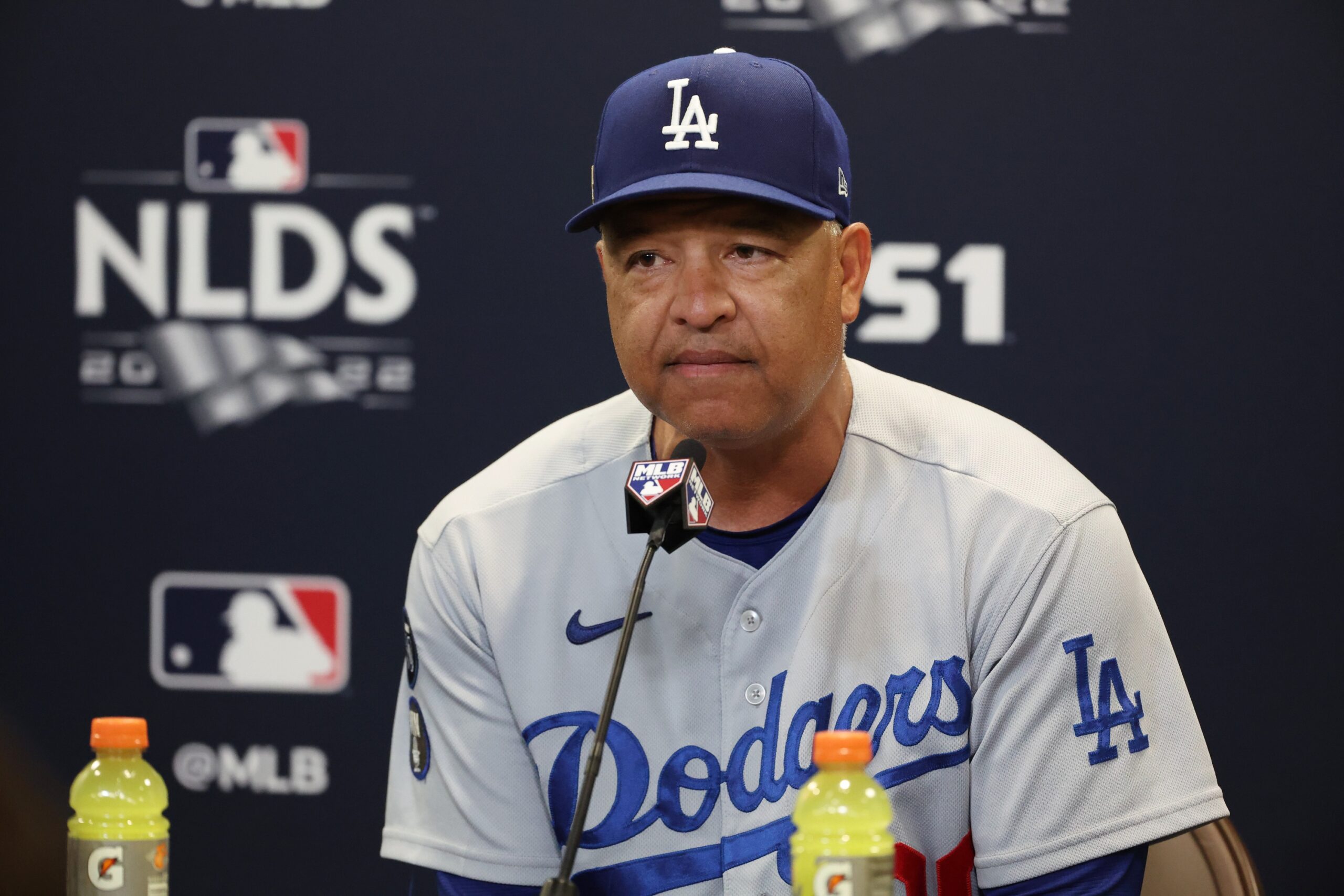 Last year, Dodgers manager Dave Roberts "guaranteed" the team would win the World Series. Talking to Dan Patrick on his radio show, Roberts was asked to finish the statement: "The Dodgers will win the World Series if…"
Roberts' initial response was, "If there's a season and a postseason," although he later amended the statement:
"We are winning the World Series if our starting staff stays healthy. I know that's vague, but that's my answer. I think it's about our starting pitching, just keeping our guys healthy."
People have had a good time calling Roberts out since Los Angeles lost the NLDS to the Padres in October, but it would be hard to make a case that Roberts' qualifier of "if our starting staff stays healthy" came to pass. Walker Buehler struggled and then went down with Tommy John surgery. Tony Gonsolin missed most of the last six weeks of the season with a forearm strain and wasn't stretched back out for the postseason. Clayton Kershaw missed ten starts. Andrew Heaney had three different IL stints. Dustin May returned from Tommy John but ended up back on the IL with a lower back strain.
If Patrick had replied to Roberts, "What if I told you Julio Urias and Tyler Anderson will be your only starters to stay healthy all year?" Roberts' reply would most certainly have been, "I think I'll back off on that guarantee."
Still, the Dodgers won 111 games in the regular season and, by all accounts, should have won the World Series even despite all the injuries. So people forget how much they had to overcome to be so historically good in the regular season.
But Roberts has learned his lesson. At FanFest at Dodger Stadium on Saturday, Roberts talked about the team's expectations this year (and every year).
"Every year our goal is to go out there and win the west, however many games that takes. It's going to be a different ballclub this year. I would probably say I put more pressure and expectations on myself and our ballclub than anyone else. When you wear the Dodgers uniform, that's the bar. We're still expecting to win the division and go beyond."
Roberts was then asked if he was going to guarantee a World Series.
"I'm not going to do it this year. Not gonna do that again. But again, I still expect to win the World Series. I do. And I don't think there's anybody that's part of our organization or fanbase that doesn't feel that same way."
There's nothing wrong with a manager being confident in his team, even out loud on the radio. Karma doesn't exist, and jinxes don't exist. The reason LA lost the NLDS is because they couldn't hit with runners in scoring position, not because Roberts said words on the radio seven months earlier.
But it's also okay that Roberts stopped short of guaranteeing it this year. He absolutely expects the team to win it all, and every player on the team expects it, too.
Have you signed up for the Dodgers Nation newsletter yet? Get the latest news, rumors, highlights and more right in your inbox every day! Keep up to date on every single thing involving your boys in blue!